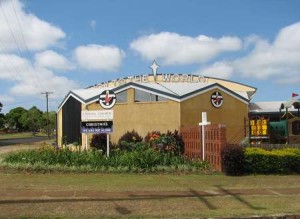 Welcome to our home page. We're pleased you found us!
The Atherton Uniting Church is situated in the heart of the beautiful Atherton Tablelands in North Queensland.  The Tablelands is a great place to visit and a great place to live. The area boasts unsurpassed scenic views, spectacular waterfalls, crater lakes, rainforests, and there are many great tourist attractions. Check out our photos page and do come and visit in person one day. You won't be disappointed.
If you are planning a visit to this beautiful part of the country or if you are a recent arrival looking for a church family you are most welcome to join us. We are a group of people who are committed to living out our faith in Jesus Christ, to being bearers of hope to our community and to loving people as Christ loves us.
ADDRESS: Our ministry base and worship centre is located on the corner of Jack & Victoria Streets, Atherton, but members travel from all over the Southern Tablelands (eg. Atherton, Herberton, Malanda, Tolga, and Yungaburra).
Our phone number  : 07 4091 4690
SUNDAY SERVICE TIMES: 9.30 am